Ahh — a fresh, new month means a fresh, new crop of YA releases and there are some amazing new releases in the YA world set for March 2016!  Browse below to find your most anticipated, upcoming book(s) and let me know what you're dying to get your hands on!
Beyond the Red » Ava Jae
[caption id="" align="alignleft" width="317"]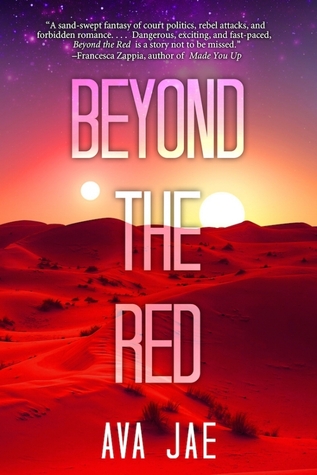 March 1[/caption]

Alien queen Kora has a problem as vast as the endless crimson deserts. She's the first female ruler of her territory in generations, but her people are rioting and call for her violent younger twin brother to take the throne. Despite assassination attempts, a mounting uprising of nomadic human rebels, and pressure to find a mate to help her rule, she's determined to protect her people from her brother's would-be tyrannical rule.Eros is a rebel soldier hated by aliens and human alike for being a half-blood. Yet that doesn't stop him from defending his people, at least until Kora's soldiers raze his camp and take him captive. He's given an ultimatum: be an enslaved bodyguard to Kora, or be executed for his true identity—a secret kept even from him.When Kora and Eros are framed for the attempted assassination of her betrothed, they flee. Their only chance of survival is to turn themselves in to the high court, where revealing Eros's secret could mean a swift public execution. But when they uncover a violent plot to end the human insurgency, they must find a way to work together to prevent genocide.
Personal Note:
  I've been following this debuting author's blog for a few months now and I'm really excited to read her novel. Check her blog out at 
Writability
; she puts out great stuff for aspiring writers.
Into the Dim » Janet B. Taylor
[caption id="" align="alignleft" width="316"]
March 1[/caption]
Being "the homeschooled girl," in a small town, Hope Walton's crippling phobias and photographic memory don't help her fit in with her adoptive dad's perfectly blonde Southern family. But when her mother is killed in a natural disaster thousands of miles from home, Hope's secluded world crumbles. After an aunt she's never met invites her to spend the summer in Scotland, Hope discovers that her mother was more than a brilliant academic. She's a member of a secret society of time travelers, and is actually trapped in the twelfth century in the age of King Henry II and Eleanor of Aquitaine. Now Hope must conquer her numerous fears and travel back in time to help rescue her mother before she's lost for good. Along the way, she'll discover more family secrets, and a mysterious boy who could be vital to setting her mother free… or the key to Hope's undoing.Addictive, romantic, and rich with historical detail,
Into the Dim
 is an
Outlander
for teens.
Personal Note:
  There have been many time traveling books out as of late, but I feel excitement with each one hoping that it will change my life!  I hope 
Into the Dim 
can be the sweeping romantic adventure I'm craving.
Burning Glass » Kathryn Purdie
[caption id="" align="alignleft" width="313"]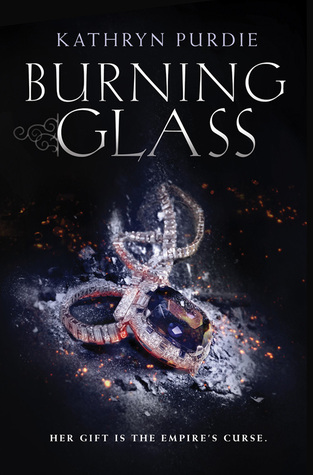 March 1[/caption]
Sonya was born with the rare gift to feel what those around her feel—both physically and emotionally—a gift she's kept hidden from the empire for seventeen long years. After a reckless mistake wipes out all the other girls with similar abilities, Sonya is hauled off to the palace and forced to serve the emperor as his sovereign Auraseer.Tasked with sensing the intentions of would-be assassins, Sonya is under constant pressure to protect the emperor. One mistake, one small failure, will cost her own life and the lives of the few people left in the world who still trust her.But Sonya's power is untamed and reckless, her feelings easily usurped, and she sometimes can't decipher when other people's impulses end and her own begin. In a palace full of warring emotions and looming darkness, Sonya fears that the biggest danger to the empire may be herself.As she struggles to wrangle her abilities, Sonya seeks refuge in her tenuous alliances with the volatile Emperor Valko and his idealistic younger brother, Anton, the crown prince. But when threats of revolution pit the two brothers against each other, Sonya must choose which brother to trust—and which to betray.BURNING GLASS is debut author Kathryn Purdie's stunning tale of dangerous magic, heart-rending romance, and the hard-won courage it takes to let go.
Personal Note:
 I like romance.  I detest love triangles.  Please let this book have plenty of the first (plus intrigue) and NONE of the latter in deadly amounts.
A Daring Sacrifice (An Uncertain Choice #2) » Jody Hedlund
[caption id="" align="alignleft" width="314"]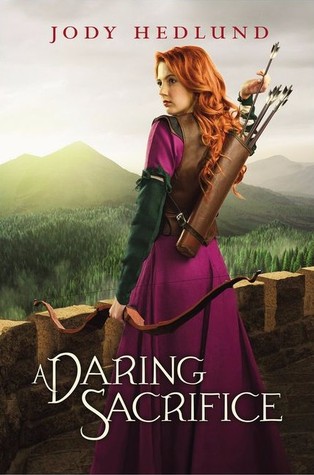 March 1[/caption]
In a reverse twist on the Robin Hood story, a young medieval maiden stands up for the rights of the mistreated, stealing from the rich to give to the poor. All the while, she fights against her cruel uncle who has taken over the land that is rightfully hers. Forced to live in the woods and hide with the poor people she's grown to love, she works to save and protect them, but she never anticipates falling in love with the wealthy knight who represents all she's come to despise.
Personal Note:
 I haven't read the first book in this series so I have no idea about what's going on here!!
Liars and Losers Like Us » Ami Allen-Vath
[caption id="" align="alignleft" width="316"]
March 1[/caption]
Keep calm and make it to prom night—without a legit panic attack.For seventeen-year-old Bree Hughes, it's easier said than done when gossip, grief, and the opportunity to fail at love are practically high-fiving her in the hallways of Belmont High.When Bree's crush, Sean Mills, gives her his phone number, she can't even leave a voicemail without sounding like a freak. Then she's asked to be on Prom Court because Maisey Morgan, the school outcast nominated as a joke, declined. She apologizes to Maisey, but it's too late. After years of torment and an ugly secret shared with their class's cruel Pageant Queen, Maisey commits suicide. Bree is left with a lot of regret . . . and a revealing letter with a final request.With Sean by her side, Bree navigates through her guilt, her parents' divorce, and all the Prom Court drama. But when a cheating love triangle secret hits the fan after a night of sex, drinks, and video games, she's left with new information about Sean and the class Pageant Queen. Bree must now speak up or stay silent. If she lets fear be her guide, she'll lose her first love, and head to prom to avenge the death of the school outcast—as a party of one.
Personal Note:
 I haven't heard much of anything about this book!
The Great Hunt » Wendy Higgins
[caption id="" align="alignleft" width="314"]
March 8[/caption]
Kill the beast. Win the girl.A strange beast stirs fear in the kingdom of Lochlanach, terrorizing towns with its brutality and hunger. In an act of desperation, a proclamation is sent to all of Eurona—kill the creature and win the ultimate prize: the daughter of King Lochson's hand in marriage.Princess Aerity understands her duty to the kingdom though it pains her to imagine marrying a stranger. It would be foolish to set her sights on any particular man in the great hunt, but when a brooding local hunter, Paxton Seabolt, catches her attention, there's no denying the unspoken lure between them…or his mysterious resentment.Paxton is not keen on marriage. Nor does he care much for spoiled royals and their arcane laws. He's determined to keep his focus on the task at hand—ridding the kingdom of the beast and protecting his family—yet Princess Aerity continues to challenge his notions with her unpredictability and charm. But as past secrets collide with present desires, dire choices threaten everything Paxton holds dear.Inspired by the Grimm Brothers' tale, "The Singing Bone," New York Times bestselling author Wendy Higgins delivers a dark fantasy filled with rugged hunters, romantic tension, outlawed magic, and a princess willing to risk all to save her people.
Personal Note:
  I'm sooo excited.  The summary says that the story is inspired by "The Singing Bone," but it also makes me think of the story of Atlanta, in Greek Mythology.
Rebel of the Sands » Alwyn Hamilton
[caption id="" align="alignleft" width="315"]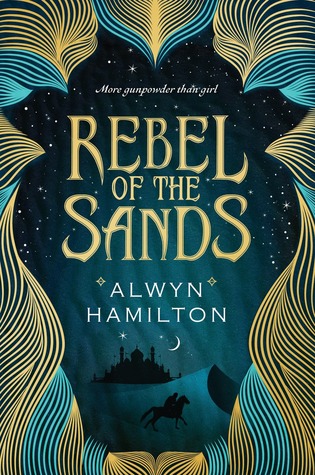 March 8[/caption]
She's more gunpowder than girl—and the fate of the desert lies in her hands.

Mortals rule the desert nation of Miraji, but mystical beasts still roam the wild and barren wastes, and rumor has it that somewhere, djinni still practice their magic. But there's nothing mystical or magical about Dustwalk, the dead-end town that Amani can't wait to escape from.

Destined to wind up "wed or dead," Amani's counting on her sharpshooting skills to get her out of Dustwalk. When she meets Jin, a mysterious and devastatingly handsome foreigner, in a shooting contest, she figures he's the perfect escape route. But in all her years spent dreaming of leaving home, she never imagined she'd gallop away on a mythical horse, fleeing the murderous Sultan's army, with a fugitive who's wanted for treason. And she'd never have predicted she'd fall in love with him...or that he'd help her unlock the powerful truth of who she really is.

Personal Note:
  This sounds so cool and action-packed.  I am not only intrigued, I am itching to read this book!
A Tyranny of Petticoats » Edited by Jessica Spotswood
[caption id="" align="alignleft" width="315"]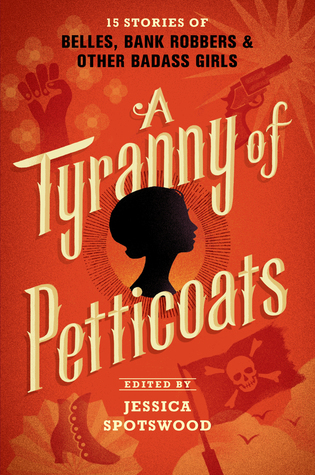 March 8[/caption]
From an impressive sisterhood of YA writers comes an edge-of-your-seat anthology of historical fiction and fantasy featuring a diverse array of daring heroines.Criss-cross America — on dogsleds and ships, stagecoaches and trains — from pirate ships off the coast of the Carolinas to the peace, love, and protests of 1960s Chicago. Join fifteen of today's most talented writers of young adult literature on a thrill ride through history with American girls charting their own course. They are monsters and mediums, bodyguards and barkeeps, screenwriters and schoolteachers, heiresses and hobos. They're making their own way in often-hostile lands, using every weapon in their arsenals, facing down murderers and marriage proposals. And they all have a story to tell.With stories by:J. Anderson CoatsAndrea CremerY. S. LeeKatherine LongshoreMarie LuKekla MagoonMarissa MeyerSaundra MitchellBeth RevisCaroline RichmondLindsay SmithJessica SpotswoodRobin TalleyLeslye WaltonElizabeth Wein
Personal Note:
 There are a ton of new-to-me authors in this upcoming anthology, which I'm quite excited about.
Lady Midnight » Cassandra Clare
[caption id="" align="alignleft" width="313"]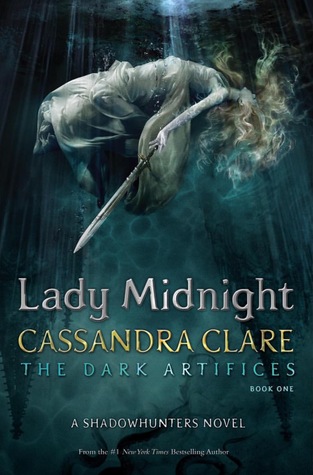 March 8[/caption]
Los Angeles. It's been five years since the events of the Mortal Instruments when Nephilim stood poised on the brink of oblivion and Shadowhunter Emma Carstairs lost her parents. After the blood and violence she witnessed as a child, Emma has dedicated her life to to discovering exactly what it was that killed her parents and getting her revenge.
Raised in the Los Angeles Institute with the Blackthorn family, Emma is paired as a parabatai with her best friend, Julian Blackthorn. A series of murders in the city catch her attention — they seem to have the same characteristics as the deaths of her parents. Could the murderer be the same person? And her attention isn't the only one caught: someone has been murdering Downworlders as well. The Fair Folk make a deal with the Institute: if the Blackthorns and Emma will investigate the killings, they'll return Mark Blackthorn to his home. The catch: they have only two weeks to find the killers. Otherwise it's open war between faeries and Nephilim.
The Shadowhunters of the Institute must race against time to catch the killers, even as they begin to suspect the involvement of those closest to them. At the same time, Emma is falling in love with the one person in the world she's absolutely forbidden by Shadowhunter Law to love. Set against the glittering backdrop of present-day Los Angeles, Emma must learn to trust her head and her heart as she investigates a demonic plot that stretches from the warlock-run nightclubs of the Sunset Strip to the enchanted sea that pounds the beaches of Santa Monica.
Personal Note:
 People are freaking out over this one. (With excitement but also with typical Clare hate.) I don't read Clare's stuff myself, so I'm pretty removed from this book.
Magnetic Shift » Lucy D. Briand
[caption id="" align="alignleft" width="318"]
March 15[/caption]
The ability to magnetize and manipulate metal with the flick of her wrist makes seventeen-year-old Lexi Adams a crack mechanic, but it's a disaster in the making when her stepdad trades her skills to NASCAR team owner Dean Grant for an entire season's worth of sponsorship ads.
Now Lexi has no other choice but to suck it up and hope she can keep her magnetic impulses under control—that is, until she runs into NASCAR's hot new rookie, Colton Tayler.
When Carl Stacy, the ruthless team owner of the defending Cup Champion, discovers Lexi's secret and plots to use it to ruin Dean's race team for good, Lexi must either expose her ability to save Colton, risking Dean's career and her own freedom in the process, or watch the only guy she's ever fallen for race to his death.
Personal Note:
 This book sounds so country, guys. Lol.
The Crown's Game » Evelyn Skye
[caption id="" align="alignleft" width="314"]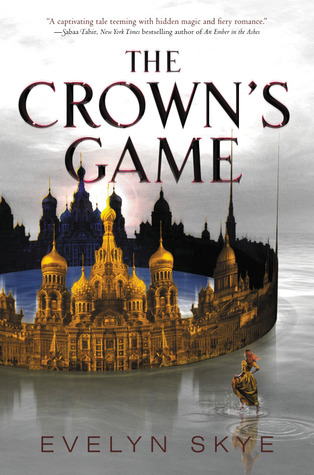 March 17[/caption]
Vika Andreyeva can summon the snow and turn ash into gold. Nikolai Karimov can see through walls and conjure bridges out of thin air. They are enchanters—the only two in Russia—and with the Ottoman Empire and the Kazakhs threatening, the Tsar needs a powerful enchanter by his side.
And so he initiates the Crown's Game, an ancient duel of magical skill—the greatest test an enchanter will ever know. The victor becomes the Imperial Enchanter and the Tsar's most respected adviser. The defeated is sentenced to death.
Raised on tiny Ovchinin Island her whole life, Vika is eager for the chance to show off her talent in the grand capital of Saint Petersburg. But can she kill another enchanter—even when his magic calls to her like nothing else ever has?
For Nikolai, an orphan, the Crown's Game is the chance of a lifetime. But his deadly opponent is a force to be reckoned with—beautiful, whip smart, imaginative—and he can't stop thinking about her.
And when Pasha, Nikolai's best friend and heir to the throne, also starts to fall for the mysterious enchantress, Nikolai must defeat the girl they both love . . . or be killed himself.
As long-buried secrets emerge, threatening the future of the empire, it becomes dangerously clear . . . the Crown's Game is not one to lose.
Personal Note: 
A very exciting premise and a book that people are beginning to clamor over.
Wink Poppy Midnight » April Genevieve Tucholke
[caption id="" align="alignleft" width="313"]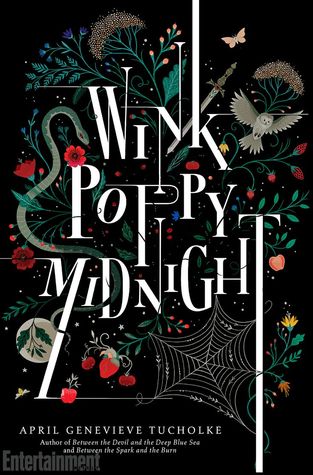 March 22[/caption]
The intrigue of
The Virgin Suicides
and the "supernatural or not" question of
The Unbecoming of Mara Dyer
coalesce in this young adult mystery, where nothing is quite as it seems, no one is quite who you think, and everything can change on a dime.
Every story needs a hero.
Every story needs a villain.
Every story needs a secret.
Wink is the odd, mysterious neighbor girl, wild red hair and freckles. Poppy is the blond bully and the beautiful, manipulative high school queen bee. Midnight is the sweet, uncertain boy caught between them. Wink. Poppy. Midnight. Two girls. One boy. Three voices that burst onto the page in short, sharp, bewitching chapters, and spiral swiftly and inexorably toward something terrible or tricky or tremendous.
What really happened?
Someone knows.
Someone is lying.
For fans of Holly Black,
We Were Liars
, and
The Raven Boys
, this mysterious tale full of intrigue, dread, beauty, and a whiff of something strange will leave you utterly entranced.
Personal Note: 
People are going bananas over this cover... whether or not the text lives up to the art design remains to be seen!
Half Lost (Half Bad #3) » Sally Green
[caption id="" align="alignleft" width="314"]
March 29[/caption]
A stunning, magical world. An international sensation.
Nathan Byrn is running again. The Alliance of Free Witches has been all but destroyed. Scattered and demoralized, constantly pursued by the Council's Hunters, only a bold new strategy can save the rebels from total defeat. They need the missing half of Gabriel's amulet—an ancient artifact with the power to render its bearer invincible in battle.But the amulet's guardian—the reclusive and awesomely powerful witch Ledger - has her own agenda. To win her trust, Nathan must travel to America and persuade her to give him the amulet. Combined with the Gifts he has inherited from Marcus, the amulet might just be enough to turn the tide for the Alliance and end the bloody civil war between Black and White witches once and for all…
Personal Note:
 I can't believe this trilogy is ending so soon!  I feel old.  But seriously, I will definitely be picking up this series ender!
The Winner's Kiss (Winner's Curse #3) » Marie Rutkoski
[caption id="" align="alignleft" width="314"]
March 29[/caption]
War has begun. Arin is in the thick of it, with the East as his ally and the empire as his enemy. He's finally managed to dismiss the memory of Kestrel, even if he can't quite forget her. Kestrel turned into someone he could no longer recognize: someone who cared more for the empire than for the lives of innocent people—and certainly more than she cared for him. At least, that's what he thinks.But far north lies a work camp where Kestrel is a prisoner. Can she manage to escape before she loses herself? As the war intensifies, both Kestrel and Arin discover unexpected roles in battle, terrible secrets, and a fragile hope. The world is changing. The East is pitted against the West, and Kestrel and Arin are caught between. In a game like this, can anybody really win?
Personal Note:
 WOOOOOOO! SO EXCITED!
My Most Anticipated Book of March, 2016...
The Great Hunt! 
I'm really excited about 
The Winner's Kiss, 
yes, but I'm even more looking forward to this dishy sounding book that is a retelling of many classical archetypes.  I cannot wait to get my hands on 
The Great Hunt.
// /// ///
That's about it, folks!  Are you excited for March, 2016 yet?  Also, please forgive me if you know of a book that's missing from the list.  Leave a comment below, and I'll pop it up! And don't forget to tell me which book you're most anticipating!