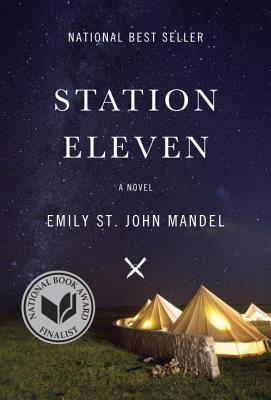 I was so excited to read
Station Eleven
that I bought it without having read it first — something I hardly ever do. This, Emily St. John Mandel's fourth book, has been receiving great reviews everywhere I've looked. I figured it was a safe buy.
As it turns out, I did enjoy Station Eleven, but found that the book fell short of my very high expectations. I'll get to those complaints and also praise, but first, a brief summary.
Station Eleven follows five interconnected narrators before, during, and after a mutation of the swine flu takes out 99.9% of the population. There is a Hollywood actor, Arthur Leander. His first wife, Miranda. His friend and lawyer, Clark. A man, Jeevan Chaudhary, former paparazzo and entertainment journalist, turned EMT-trainee. And Kirsten Raymonde, an actress who appeared as a child in Arthur Leander's final performance of King Lear, who, in the aftermath of the outbreak, lives with a traveling symphony and acting troupe dedicated to bringing culture to the post-apocalyptic masses.
I hugely enjoyed the first portion of the novel. Its opening is gripping, with Arthur dying onstage, Kirsten looking on, with Jeevan rushing from his audience seat to perform CPR. Immediately after this death scene, the world is torn apart by the deadly influenza that stops civilization in its tracks, throwing the few human survivors into another dark age. The portrayal of this disaster was very well done. I was thrilled and chilled and utterly absorbed.
The middle of the book was strong, too, with the Traveling Symphony stumbling across a settlement that's been taken over by a self-proclaimed prophet and his religious extremist followers. The shocking events of this meeting are interspersed with flashbacks that follow our other narrators at various stages of their lives. Near the end, this split narration turned out to be a bit of a weakness. It's a pet peeve of mine when a climactic, or otherwise tense moment, is interrupted by a narration shift.
There are larger complaints as well. For one, I think the book could have benefitted from a stronger thematic voice. The story is comprised of disparate characters who all touch each other in unexpected ways — but what does this ultimately mean to the reader? The world is struck by an epic disaster and must find a way to rise from the ashes — but what point is being made by this scenario? I felt like St. John Mandel failed to answer these questions, was not able to inject a strong sense of close-ended thought into the story.
It could be that I'm failing to see or to understand the answers to these questions, and I'm open to this possibility. I would be really interested to hear other readers' opinions on the book. I do think Station Eleven would make for a great discussion.
Aside from this main complaint, I would also add that the conflict and suspense collapsed a bit near the final act. However, now that I'm finished airing out my issues, I want to say that I think Station Eleven is a worthwhile read. Although I was left a little frustrated at the end, I was immensely intrigued by the book as a whole and am very glad I read it.
I give it four north stars.