Ahh, a fresh new month (and year) means a fresh, new crop of YA releases and there are some amazing new releases in the YA world set for January 2016!   Browse below to find your most anticipated, upcoming book(s) and let me know what you're dying to get your hands on!  Release dates are located in the cover captions!
Truthwitch » Susan Dennard
[caption id="" align="alignleft" width="317"]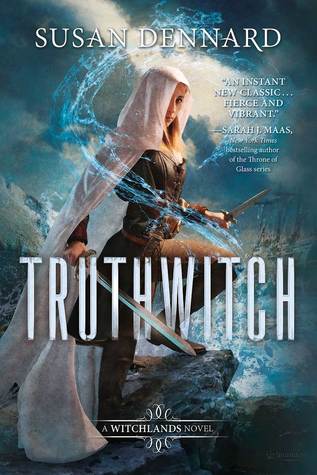 January 5[/caption]
On a continent ruled by three empires, some are born with a "witchery", a magical skill that sets them apart from others.In the Witchlands, there are almost as many types of magic as there are ways to get in trouble—as two desperate young women know all too well.Safiya is a Truthwitch, able to discern truth from lie. It's a powerful magic that many would kill to have on their side, especially amongst the nobility to which Safi was born. So Safi must keep her gift hidden, lest she be used as a pawn in the struggle between empires.Iseult, a Threadwitch, can see the invisible ties that bind and entangle the lives around her—but she cannot see the bonds that touch her own heart. Her unlikely friendship with Safi has taken her from life as an outcast into one of reckless adventure, where she is a cool, wary balance to Safi's hotheaded impulsiveness.Safi and Iseult just want to be free to live their own lives, but war is coming to the Witchlands. With the help of the cunning Prince Merik (a Windwitch and ship's captain) and the hindrance of a Bloodwitch bent on revenge, the friends must fight emperors, princes, and mercenaries alike, who will stop at nothing to get their hands on a Truthwitch.
Personal Note:
  Has there been a more buzzed about book in recent memory?  What about a more awesome cover?  Needless to say I'm verrrry excited to get my mitts on 
Truthwitch.
Firsts » Laurie Elizabeth Flynn
[caption id="" align="alignleft" width="316"]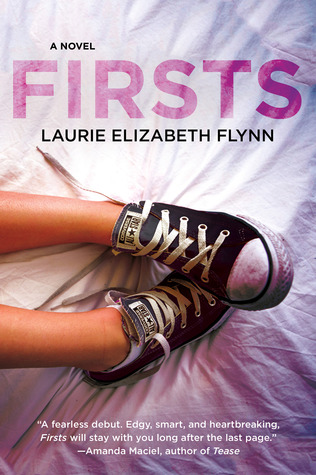 January 5[/caption]
Seventeen-year-old Mercedes Ayres has an open-door policy when it comes to her bedroom, but only if the guy fulfills a specific criteria: he has to be a virgin. Mercedes lets the boys get their awkward, fumbling first times over with, and all she asks in return is that they give their girlfriends the perfect first time- the kind Mercedes never had herself.Keeping what goes on in her bedroom a secret has been easy- so far. Her absentee mother isn't home nearly enough to know about Mercedes' extracurricular activities, and her uber-religious best friend, Angela, won't even say the word "sex" until she gets married. But Mercedes doesn't bank on Angela's boyfriend finding out about her services and wanting a turn- or on Zach, who likes her for who she is instead of what she can do in bed.When Mercedes' perfect system falls apart, she has to find a way to salvage her reputation and figure out where her heart really belongs in the process. Funny, smart, and true-to-life, FIRSTS is a one-of-a-kind young adult novel about growing up.
Personal Note:
  This book sounds intriguing, no less for its lurid hook.  What also interests me about
Firsts, 
however, is that one of my favorite reviewers gave it four stars.  I will definitely be checking this book out.
The Imposter Queen » Sarah Fine
Sixteen-year-old Elli was a small child when the Elders of Kupari chose her to succeed the Valtia, the queen who wields infinitely powerful ice and fire magic. Since then, Elli has lived in the temple, surrounded by luxury and tutored by magical priests, as she prepares for the day when the Valtia perishes and the magic finds a new home in her. Elli is destined to be the most powerful Valtia to ever rule.But when the queen dies defending the kingdom from invading warriors, the magic doesn't enter Elli. It's nowhere to be found.Disgraced, Elli flees to the outlands, the home of banished criminals—some who would love to see the temple burn with all its priests inside. As she finds her footing in this new world, Elli uncovers devastating new information about the Kupari magic, those who wield it, and the prophecy that foretold her destiny. Torn between the love she has for her people and her growing loyalty to the banished, Elli struggles to understand the true role she was meant to play. But as war looms, she must align with the right side—before the kingdom and its magic are completely destroyed.
Personal Note:
  I'm usually really happy with Sarah Fine's YA offerings, so I'm very excited to get my hands on this one.
This Is Where It Ends » Marieke Nijkamp
[caption id="" align="alignleft" width="317"]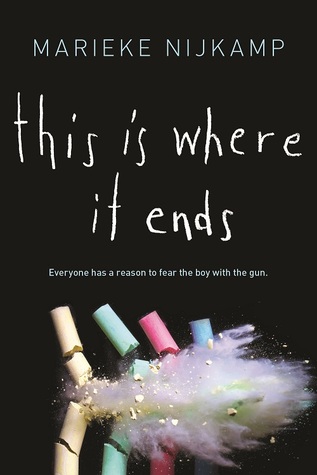 January 5[/caption]
10:00 a.m.The principal of Opportunity, Alabama's high school finishes her speech, welcoming the entire student body to a new semester and encouraging them to excel and achieve.10:02 a.m.The students get up to leave the auditorium for their next class.10:03The auditorium doors won't open.10:05Someone starts shooting.Told over the span of 54 harrowing minutes from four different perspectives, terror reigns as one student's calculated revenge turns into the ultimate game of survival.
Personal Note:
  Sometimes all it takes is one lackluster review to dampen your excitement, and that's what happened with this book.  I'll still look into it, although I'm going to shoot for finishing 
Please Forgive Me, Leonard Peacock 
first.
Passenger (Passenger #1) » Alexandra Bracken
[caption id="" align="alignleft" width="313"]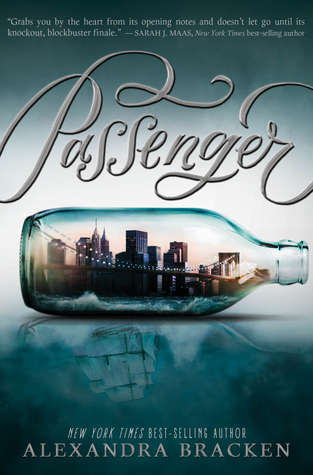 January 5[/caption]
passage
, n.i. A brief section of music composed of a series of notes and flourishes.ii. A journey by water; a voyage.iii. The transition from one place to another, across space and time.In one devastating night, violin prodigy Etta Spencer loses everything she knows and loves. Thrust into an unfamiliar world by a stranger with a dangerous agenda, Etta is certain of only one thing: she has traveled not just miles but years from home. And she's inherited a legacy she knows nothing about from a family whose existence she's never heard of. Until now.Nicholas Carter is content with his life at sea, free from the Ironwoods—a powerful family in the colonies—and the servitude he's known at their hands. But with the arrival of an unusual passenger on his ship comes the insistent pull of the past that he can't escape and the family that won't let him go so easily. Now the Ironwoods are searching for a stolen object of untold value, one they believe only Etta, Nicholas' passenger, can find. In order to protect her, he must ensure she brings it back to them— whether she wants to or not.Together, Etta and Nicholas embark on a perilous journey across centuries and continents, piecing together clues left behind by the traveler who will do anything to keep the object out of the Ironwoods' grasp. But as they get closer to the truth of their search, and the deadly game the Ironwoods are play­ing, treacherous forces threaten to sep­arate Etta not only from Nicholas but from her path home . . . forever
Personal Note:
  This sounds intriguing!  There is a lot going on in the blurb and concept, it seems, so I'll be interested to see how the book plays out in that respect.
Curio » Evangeline Denmark
[caption id="" align="alignleft" width="310"]
January 5[/caption]
 Grey Haward has always detested the Chemists, the magicians-come-scientists who rule her small western town. But she has always followed the rules, taking the potion the Chemists ration out that helps the town's people survive. A potion that Grey suspects she—like her grandfather and father—may not actually need.By working at her grandfather's repair shop, sorting the small gears and dusting the curio cabinet inside, Grey has tried to stay unnoticed—or as unnoticed as a tall, strong girl can in a town of diminutive, underdeveloped citizens. Then her best friend, Whit, is caught by the Chemists' enforcers after trying to protect Grey one night, and after seeing the extent of his punishment, suddenly taking risks seems the only decision she can make.But with the risk comes the reality that the Chemists know her family's secret, and the Chemists soon decide to use her for their own purposes. Panicked, Grey retreats to the only safe place she knows—her grandfather's shop. There, however, a larger secret confronts her when her touch unlocks the old curio cabinet in the corner and reveals a world where porcelain and clockwork people are real. There, she could find the key that may save Whit's life and also end the Chemists' dark rule forever.
Personal Note:
  I'm reading an ARC of this one right now!  This book has a beautiful cover, doesn't it?
 Bookishly Ever After » Isabel Bandeira
[caption id="" align="alignleft" width="312"]
January 12[/caption]
In a perfect world, sixteen-year-old Phoebe Martins' life would be a book. Preferably a YA novel with magic and a hot paranormal love interest. Unfortunately, her life probably wouldn't even qualify for a quiet contemporary. But when Phoebe finds out that Dev, the hottest guy in the clarinet section, might actually have a crush on her, she turns to her favorite books for advice. Phoebe overhauls her personality to become as awesome as her favorite heroines and win Dev's heart. But if her plan fails, can she go back to her happy world of fictional boys after falling for the real thing?
Personal Note:
  This sounds really meta, you guys. (I'm so proud to be using that word, I hope correctly.)
Sword and Verse » Kathy MacMillan
[caption id="" align="alignleft" width="314"]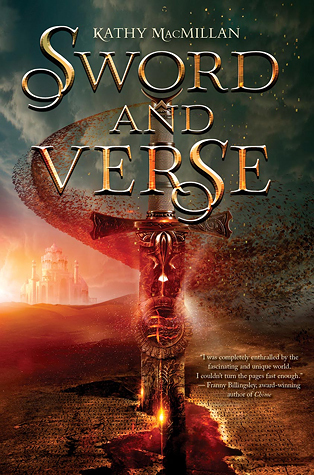 January 19[/caption]
Raisa was just a child when she was sold to work as a slave in the kingdom of Qilara. Despite her young age, her father was teaching her to read and write, grooming her to take his place as a Learned One. In Qilara, the Arnathim, like Raisa, are the lowest class, and literacy is a capital offense. What's more, only the king, prince, tutor, and tutor-in-training are allowed to learn the very highest order language, the language of the gods. So when the tutor-in-training is executed for teaching slaves this sacred language, and Raisa is selected to replace her, Raisa knows any slipup on her part could mean death.Keeping her secret is hard enough, but the romance that's been growing between her and Prince Mati isn't helping matters. Then Raisa is approached by the Resistance—an underground army of slave rebels—to help liberate Arnath slaves. She wants to free her people, but that would mean aiding a war against Mati. As Raisa struggles with what to do, she discovers a secret that the Qilarites have been hiding for centuries—one that, if uncovered, could bring the kingdom to its knees.
Personal Note: 
That's a powerful last name you're working there, Ms. MacMillan.  Amirite?  Anyways, I got a sneak peak at this one and didn't find the main character dynamic right of the bat, nor her obvious love interest, the Prince.  Man, I'm tired of Princes.  Give me the stable boys, the palace guards, the bastards.  Just no more Princes. (Po from 
Graceling 
excepted.)
The Love That Split the World » Emily Henry
[caption id="" align="alignleft" width="315"]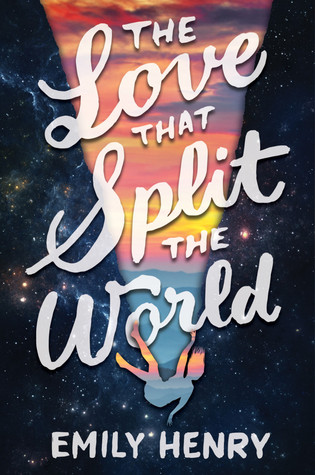 January 26[/caption]
Natalie Cleary must risk her future and leap blindly into a vast unknown for the chance to build a new world with the boy she loves. Natalie's last summer in her small Kentucky hometown is off to a magical start... until she starts seeing the "wrong things." They're just momentary glimpses at first—her front door is red instead of its usual green, there's a pre-school where the garden store should be. But then her whole town disappears for hours, fading away into rolling hills and grazing buffalo, and Nat knows something isn't right.That's when she gets a visit from the kind but mysterious apparition she calls "Grandmother," who tells her: "You have three months to save him." The next night, under the stadium lights of the high school football field, she meets a beautiful boy named Beau, and it's as if time just stops and nothing exists. Nothing, except Natalie and Beau.Emily Henry's stunning debut novel is Friday Night Lights meets The Time Traveler's Wife, and perfectly captures those bittersweet months after high school, when we dream not only of the future, but of all the roads and paths we've left untaken.
Personal Note:
Friday Night Lights 
meets 
The Time Traveler's Wife? 
Huh.  I'm reserving judgement until I've read it though.
The Siren » Kiera Cass
[caption id="" align="alignleft" width="315"]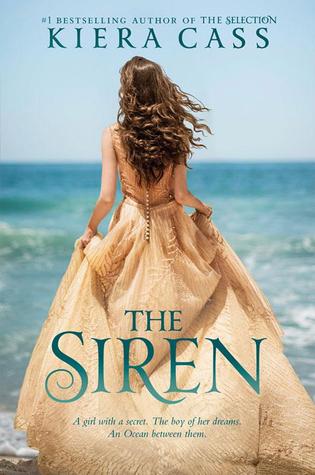 January 26[/caption]
From Kiera Cass, #1 New York Times bestselling author of the Selection series, comes a sweeping stand-alone fantasy romance.
A girl with a secret.
The boy of her dreams.
An Ocean between them.
Years ago, Kahlen was rescued from drowning by the Ocean. To repay her debt, she has served as a Siren ever since, using her voice to lure countless strangers to their deaths. Though a single word from Kahlen can kill, she can't resist spending her days on land, watching ordinary people and longing for the day when she will be able to speak and laugh and live freely among them again. Kahlen is resigned to finishing her sentence in solitude...until she meets Akinli. Handsome, caring, and kind, Akinli is everything Kahlen ever dreamed of.Falling in love with a human breaks the Ocean's rules. But for the first
time in a lifetime of following the rules, Kahlen is determined to follow her heart.
Personal Note: 
I wasn't a fan of Kiera Cass's 
Selection 
series, so I'm not sure that I'll like 
The Siren.  
We'll see.
The Dark Days Club » Alison Goodman
[caption id="" align="alignleft" width="303"]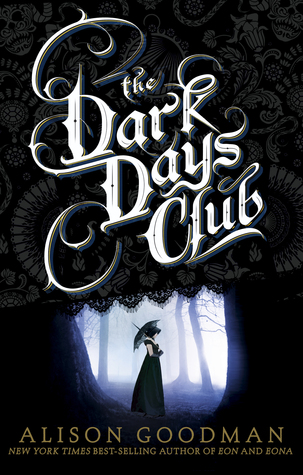 January 26[/caption]
New York Times
bestseller Alison Goodman's eagerly awaited new project: a Regency adventure starring a stylish and intrepid demon-hunter!London, April 1812. On the eve of eighteen-year-old Lady Helen Wrexhall's presentation to the queen, one of her family's housemaids disappears-and Helen is drawn into the shadows of Regency London. There, she meets Lord Carlston, one of the few who can stop the perpetrators: a cabal of demons infiltrating every level of society. Dare she ask for his help, when his reputation is almost as black as his lingering eyes? And will her intelligence and headstrong curiosity wind up leading them into a death trap?
Personal Note: 
Regency-era? Say no more! I've read so much Jane Austen in my days I feel like I know the period like the back of my hand.  It'll be interesting to see the portrayal of a higher class of people than Austen wrote about, however.  She stuck mainly to the landed gentry, but not to lords and ladies who brushed with royalty.  This oughta be gooood.
My Most Anticipated Book of the Month...
Truthwitch!
I simply cannot get over how much pre-release publicity this book has gotten around the blogosphere.  Whether it's hype or buzz remains to be seen!
// /// ///
That's about it, folks!  Are you excited, yet?  Also, please forgive me if you know of a book that's missing from the list.  Leave a comment below, and I'll pop it up! And don't forget to tell me which book you're most anticipating!